Coronavirus (COVID-19) Update: 3.23.2020
Due to the growing concerns of coronavirus (COVID-19), the ALLIANCE 80th Annual Meeting of Members has been postponed until further notice. Members will be notified when alternate arrangements have been made for this year's meeting.
In light of the global COVID-19 pandemic and Governor Abbott's latest proclamation, ALLIANCE has made the very difficult but necessary decision to close our lobbies effective March 20, 2020 and until further notice. All regular teller transactions will be performed through our drive-thru's.
ALL DRIVE-THRU'S REMAIN OPEN
In an effort to provide the same level of service that our members have come to expect, we are extending our drive-thru service times to 7:00am - 7:00pm Monday through Friday effective March 23, 2020. We will also be opening all ALLIANCE drive-thru locations from 8:00am - 1:00pm on Saturdays beginning March 28, 2020.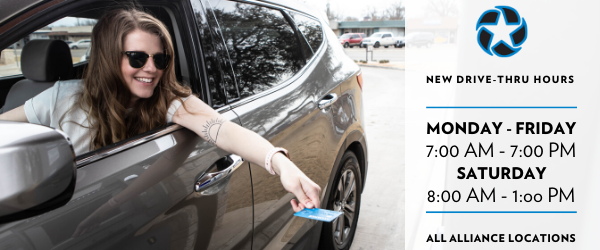 ALLIANCE lobbies will be available by appointment for certain services, effective March 20, 2020 and until further notice. Appointment examples include certain loan signings, certificates of deposit and IRA Transactions.
TO SCHEDULE A LOBBY APPOINTMENT CALL 806.798.5554
We understand that the widespread closures and restrictions occurring at this time may reduce incomes for some of our members. Whether it's an emergency loan you need, or you're worried about making payments on an existing loan, please don't hesitate to reach out to us. We're here for you, and we'll do what we can to help. You can apply for loans and complete the entire process remotely.
If you're a small business owner who is being adversely affected, the Small Business Association (SBA) may also be able to help you. Click here for further information.
We appreciate your cooperation and understanding as we comply with state mandates and do our part to keep our community safe.
_______________________________________________
If you haven't enrolled in online access, it only takes a few minutes. Click HERE to get started.
If you haven't downloaded the ALIANCE Mobile App, click the appropriate link below from your mobile phone:
Our eSolutions staff is available Monday-Friday, 7:30am-6:00pm to answer questions, asist with transactions, and meet the needs of our members at 806.798.5554. Please visit our website and follow us on social media for any important updates as this situation evolves.