Whether you're looking to upgrade or downsize, the ALLIANCE Home Loan Center is the KEY to turning your financial goals into fantastic realities.
Up to 100% Financing Available
FHA, VA, Traditional, New Construction
Your Road Map to Mortgage
We'll hold your hand through the Home Mortgage process.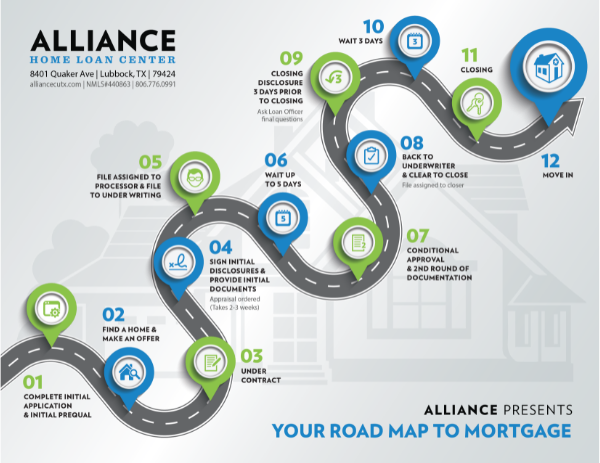 Step 1: Complete initial application and initial prequal
Step 2: Find a home and make an offer
Step 3: Under contract
Step 4: Sign initial disclosures and provide initial documents
Step 5: File assigned to processor and file to underwriting
Step 6: Wait up to 5 days
Step 7: Conditional approval and 2nd round of documentation
Step 8: Back to underwriter and clear to close
Step 9: Closing disclosure 3 days prior to closing
Step 10: Wait 5 days
Step 11: Closing
Step 12: Move in
---
For rate and application information, contact the ALLIANCE Home Loan Center at 806-776-0991 today. Credit Union Membership is required. Loan terms and conditions depend on credit qualifications and approval.